Morning Star - 9/16" x 7-1/2" Distressed Cafe Noir Engineered Bamboo Flooring - Lifetime Warranty
Length: 72-7/8"
Quick Highlights:
Green Option for Customer
Plywood Core with 3mm Veneer
Glue Down or Nail Down Installation
Backed by a Lifetime Warranty
About Bamboo:
Bamboo floors' popularity has increased over the past few years as people have become more aware of the fragile state of the environment. Because it is a grass rather than a wood, it grows far more quickly than a tree. The plant's extensive root system continually grows underground and it replenishes itself naturally, as grass does. New growth, which springs out of the ground and can mature up to 24" in 24 hours and unlike trees, bamboo will regenerate quickly, making it a renewable resource.
About Engineered Flooring:
With plywood engineered products, hardwood veneer layers are stacked on one another, with the grain of the adjacent layers oriented perpendicular to each other. Because wood expands and contracts in the direction of the grain, one layer stabilizes the next, resulting in a product that is less susceptible to the effects of moisture and temperature change.
Brand: Morning Star Ultra
FLOORING SKU: 10042984
SAMPLE SKU: 10042986
Limited Warranty: Lifetime
Trade Name: Bamboo
Marketing Name: Bamboo
Janka Rating: N/A
AC Rating: N/A
Grade: Select
Color Shade: Dark
Width: 7 1/2"
Thickness: 9/16"
Construction: Bamboo
Installation Type: Glue, Nail
Sq. Ft. Per Box: 22.7
Hardness Rating: N/A
Waste: 5%
Weight per box/unit: 48.12
Installation Details: Installation Guide


Complete Your Project With These
All
Molding & Trim
Accessories
Underlayment & Adhesives

Please rotate your device to enjoy this feature!
Close
Morning Star Ultra 9/16" x 7-1/2" Engineered Cafe Noir Bamboo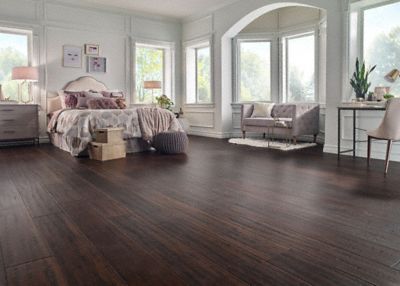 See more

Swipe